with Steven Yeun, Yeri Han, Noel Cho, Alan S. Kim
When you see the beauty of the land that Jacob wants to farm, when you know he has a plan, and the skill to put it into action, you get the feeling that this movie is about a man trying to succeed. It is a struggle for a Korean immigrant not to be ripped off by connivers. He does not trust the man with the divining rod to be honest about how to find water. Instead, he trusts his own instincts, and digs a well, turns over the soil, and plants his crops, meant to be sold to Korean Americans in nearby towns of rural Arkansas.
This does not mean that Jacob and his wife Monica can stop working in the chicken factory, where their job is to determine the sex of the animal — males not so lucky, females survive. The parents of two young children, they lack child care, so bring their son David, around aged five, and daughter, Anne, a bit older, to work with them where they witness their father's extreme skill at determining the gender of the animals. He is so fast, he can take breaks while others frantically try to meet their quotas. When David asks what smoke is, his dad answers male chickens don't taste good, they have no use, they go to be smoked (killed). We'd better be useful he warns his son.
This warning pretty much informs the movie's soul. How useful is a man whose crop depends on a well that runs dry? Seeking child care, Monica summons her mother from Korea. Grandma is a pistol. She teaches the children to gamble, she swears, she gets David to run even though he has a heart murmur and is generally treated with kid gloves when it comes to physical activity. The relationship between five year old David and Grandma, who moves into David's room, develops and is complex. They start out having not particularly good chemistry, and David is quite naughty at times with her. But it is clear that she loves him, and wants to teach him things he cannot learn from other Americans. Most important to her is not the farm that Jacob is creating, but the minari that she plants and grows on the riverbank. Frequent visits to this site give the movie a timeless feeling.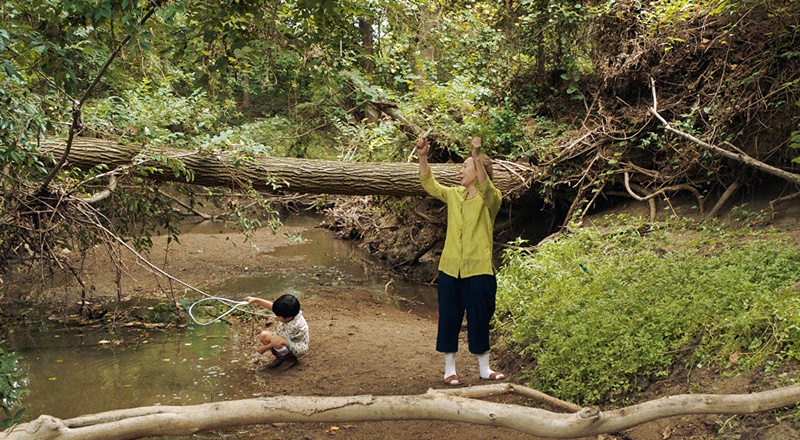 The second half of the film, where Jacob is ready to sell his crop, and Grandma suffers a health emergency, begin to wear one down. The only native Arkansas character is a born again Christian so extreme, he carries a cross on his back to walk to town. Music wears one down as well. Every time he began talking about God as a savior, I cringed. I began to question inconsistent decisions being made by the characters who up until the second half made sense. Marital tensions create melodrama and add to the feeling of exhaustion on the part of the audience.
Still, the children's acting, especially Allan S. Kim as David, the photography of the landscape, and the struggle of outsiders in an unforgiving culture, ring true.